i am ready to see Easter in now... christmas, it can linger a day or two... but st patty's day? nah.... moving on! in fact i am going to hang our cute little eggs in the vine on our porch today. and moving on is fitting for another reason... giles spent the night out for the very first time! well, he's traveled to my parent's house before and stayed several days... but here in town? nope, he's never spent the night out... so, he finally mentioned it and we thought, 'what the heck?' so, he SUCCESSFULLY spent the entire night with his mimi and poppy. I know we've opened a can of worms now... maybe that is why *we* never suggested he stay over there- lol... so, i think i will try to surprise him with a little easter decor to greet him at the door...
and since this next project takes a few days, i thought i would go ahead and post something cute i found over at holiday crafts and creations! enjoy =) um, ps..., those daffodils are precious... just not so sure mine will turn out anything like the ones pictured... we'll see....
Materials For Teacup Crafts: Easter Place Cards
Teacups
Potting soil
Grass seeds (we used cat grass seeds from a pet store)
Drainage material (sand, gravel, styrofoam, etc.)
Cling wrap
Mister/spray bottle
Floral wire and wire cutters
Hot glue gun
Scrapbooking paper (yellow, white and orange)
Small brads (yellow and orange)
Scissors
---
Instructions For Teacup Crafts: Easter Place Cards

Before you begin, you may want to consider lining your teacups with cling wrap to help prevent the soil from staining the teacup. On that note, you may also want to buy your teacups at a second-hand or discount store rather than using a good set you own, because even with a lining, they may be stained by the soil.
Once the teacups are lined, put in the drainage material. Put about 1/2" to 1" deep. See photo A. Then proceed to place soil in your teacup. Don't fill it too full yet. Cover the soil with a layer of your grass seeds. See photo B. You may even want the soil level to be a little lower than how we've shown it in photo B, as the grass tends to push the dirt up as it grows. Of course, then cover the seeds with another layer of soil. Make sure the soil is very moist.
Be sure to follow the growing instructions on the package of seeds. They should say how important it is to keep the soil/seeds moist. We find it is best to use the spray bottle to water the seeds so they become moist but not flooded due to the lack of drainage holes.

You will probably have to wait about 2 weeks before the grass is tall enough and more importantly, thick enough, to use. Photo C shows the grass at 1 week. The grass tends to grow quickly once it is up, but the second week is needed for other blades to fill in and make the grass thicker. You will probably have to trim the grass once or twice so it is not ridiculously high!

While you are waiting for your grass to be ready, you can make the paper daffodils. Start by printing out the
daffodil and name tag template
. We have provided the patterns for two different sizes of daffodils, marked by "1" and "2" so you know which pieces go together.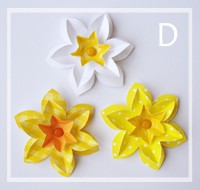 Trace the patterns onto various colors of scrapbooking paper and cut them out. The largest daffodil shape in each set is to remain flat. Then the smaller shape is to have each of the petals creased down the center. The smallest "trumpet" portion is to be folded in and out around the center to create a trumpet look. Then place the trumpet in the center of the creased flower, and that flower on the flat one, and secure them together with a brad through the center. See photo D for some examples.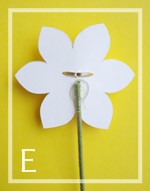 Cut your floral wire into shorter pieces for each daffodil. Be sure to measure about how high you want the daffodils to stand out of the grass before you make your cuts. Then place a dab of hot glue on the back of each daffodil and place the end of a piece of wire into the glue. See photo E.
You may also want to cut out a second copy of the larger daffodil shape in each size to glue to the back of each daffodil. This way the back of the brad and the glue as you see in photo E will be covered up when viewing the backs of the daffodils.

If you will be using these teacups as place cards, be sure to use the name tag template to create a tag that can be hole-punched and tied onto the handle of each teacup with a small piece of ribbon.

Now once your grass is ready, all that is left is to stick the daffodils into each teacup and perhaps fill in the grass with some chocolate eggs! Place these at each guest's spot, or use them to create a darling centerpiece for your table!